Essence 52
The wellbeing lifestyle for older people living in residential care
Essence 52 is the wellbeing partner for nursing homes who would like to offer their older residents the best possible experience while living in residential care.
What does the Essence 52 Wellbeing Lifestyle look like?
Inclusive
Essence 52 is an all inclusive programme as all five senses are incorporated for maximum resident engagement and enjoyment helping the residents' psychological wellbeing.




Daily Relaxation
Daily relaxation sessions, using the scent of lavender and providing the space to enjoy quiet contemplation, meditation or personal prayer can help with the residents' spiritual wellbeing.

Weekly Pampering
Weekly relaxation sessions using the Essence 52 'Touch of Lavender' on residents' hands or face while providing a comforting pampering atmosphere can help with the residents' environmental wellbeing.
Lifelong learning
Essence 52 provides a 52 week lifelong learning curriculum developed specifically for older adults living in residential care. The sense of smell is used for memory recall, enabling the residents to become the teachers. This can help with cognitive wellbeing.
Empowerment
The main objective of the Essence 52 programme is for the resident to retain their sense of self, the essence of who they are. The 52 week curriculum provides the opportunity for resident led activities during the week this can improve the residents' social wellbeing.
We offer upskilling and support for activity coordinators or carers currently employed by nursing homes.


Create a meaningful life for your residents with Essence 52 as your wellbeing partner
The aim of the Essence 52 facilitator training is that participants will develop the skills that will enable them to provide an effective wellbeing programme for older adults living in residential care.
The Essence 52 facilitator training is a 5-week course delivered online with weekly:
Self paced content

Practical exercise

Online workshop/virtual classroom (1 hour)
Support throughout the year with:
Weekly resources with downloadable content

12 online support workshops

Annual self-paced refresher course
Essence 52 facilitator training programme
Please fill out the contact form for course pricing, upcoming course dates and enrolment.
\Learnworlds\Codeneurons\Pages\ZoneRenderers\CourseCards
The Essence 52 lifelong learning curriculum
All five senses
The curriculum includes sensory aids for all five senses ensuring inclusivity. Each topic is based on a different plant and its essential oil. Using the sense of smell for both learning and memory recall.
Interesting
Interesting content with a different topic for every week. Activity suggestions include research, outings, cultural events, arts and crafts, horticulture, baking and more. There is something for everyone.
Flexible
There are activity suggestions for individuals, groups and for those residents who would like to partake in outings with family members with a sense of purpose related to the topic. The weekly topic can build a sense of community, while the residents can still do what interests them.

Essence 52 aims to be an all inclusive programme. Therefore, the lifelong learning curriculum can be changed and adapted to include different cultures and religious festive occasions on request
Essence 52 facilitator training: Frequently asked questions
Where can I find out about the benefits of Essence 52?
It is simple to create an account and complete the free 10 minute Step 1 introduction course to find out how Essence 52 can benefit all the stakeholders in residential care. Just click the link below:
How can I introduce Essence 52 into my nursing home?
Essence 52 is offered as an annual subscription to nursing homes for a minimum of two Essence 52 facilitators. Please fill in the contact form to organise a call with Liz to find out how to make Essence 52 your nursing home wellbeing partner.
How can Essence 52 benefit both small independent nursing homes and large nursing home groups?
Essence 52 is an ideal wellbeing partner for both small nursing homes and large nursing home groups. Upskilling your current staff can reduce the expense of outsourcing independent activity providers.
For the smaller nursing homes with just one activity coordinator, a carer can also be trained to become an Essence 52 facilitator, ensuring residents can have a meaningful life in residential care every day. The staff members will feel part of a larger community of Essence 52 facilitators and also can benefit from weekly resources and regular online support workshops.
For large nursing home groups Essence 52 can provide consistency of service, with potential residents knowing they will get the same high quality trained activity staff.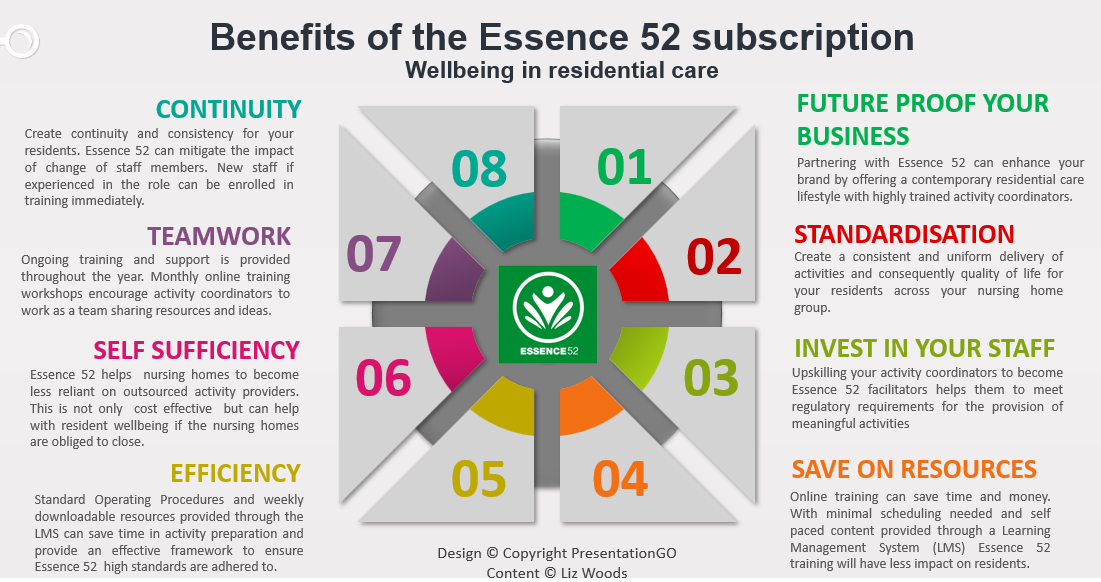 Essence 52 is supported by LHP SKillnet and Enterprise Ireland's New Frontiers.

Below is the Residential Care Spotlight: LHP Skillnet Interview with Essence 52's Liz Woods

Created with